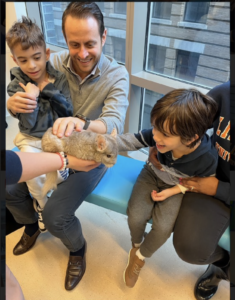 Tribeca Prep was founded by parents and the home-school connection is vital to our culture.
Parents are an integral part of the partnership between home and school.When a child has an IEP that partnership is even more important.
At  Tribeca Prep we strives to help parents understand and participate in the educational experience of their children. Our  commitment to parent education begins in the admissions process and continues with communications, workshops, and school wide activities.
Working together with students' parents and caregivers  is a crucial key to ensuring students' progress in all aspects of their lives. We believe that a strong collaboration with a child's home is crucial to empower parents to support their children's educational and personal journey. We provide regular feedback on the progress of their children and help facilitate this vital collaboration between the school, home providers, and families.
We value parental input and feedback to ensure that each child is working toward goals that are important to the student and their family. Our teachers and providers send a combined weekly newsletter that outlines what the school, class, and each child worked on that week. This provides parents and home providers with insight into the student's week at school. We understand that our students come from a variety of cultures and backgrounds and also understand that each family is unique and needs individualized support and attention to ensure that their child is meeting their goals inside and outside of school.
In addition to our outreach efforts, Tribeca Prep boasts a dynamic parents' association that works tirelessly to enrich our close-knit community. From holiday events and field trips to birthday parties and other celebrations, the involvement of families is crucial to the success of our students.
Looking to plan your next school vacation? Click here to see our school calendar.
After School & School Extention
Our newly expanded facility allows us to provide an array of engaging programs for our students and the broader community. Tribeca Preparatory students enjoy priority access to various classes and activities taking place after school. From swimming with Asphalt Green to sports to maker hours to cooking and individualized ABA support services, its vital to us to prepare our students as much as we can for life after school.