learning through discovery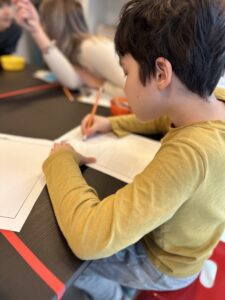 We strive to focus on learner-driven educational programming and are committed to meeting the individual strengths and needs of each child. This level of individualized instruction supports students in being able to make progress in all areas at their own pace.
Our students participate in individual, small group, and whole group lessons throughout their school day. Individual and small group instruction is focused on the areas of communication, pre-academic skills, reading, writing, and mathematics. Assessments are used to determine students' current levels for each academic domain, and all instruction is tailored to the individual student's strengths and needs. This enables students to be taught at their "just right" level, where they can be challenged while simultaneously feeling successful and making progress.
Inquiry and project-based learning provides our students with hands-on experiences and opportunities to be creative and discover the world around them. Students enjoy exploring New York City and experiencing what they are learning in the classroom for themselves. 
Applied Behavior Analysis at Tribeca Prep
Applied Behavior Analysis (ABA) is used as the instructional methodology embedded within our school environment. We utilize positive behavior strategies to increase student engagement and motivation to ensure that students are having fun while learning. ABA is utilized to help students improve their communication skills, build friendships and participate in the academic community. 
It's vital to our mission that our students are both challenged with an enriched curriculum and supported by the foundations of ABA. This combination enables our students to both learn the subject matter and how to interact in a classroom setting.
The Tribeca Prep Difference
An Individualized Academic Program
Tribeca Prep's research-based methods foster academic excellence and social skills in every student, with individualized programs that celebrate success, support multidimensional growth, and champion equal learning opportunities for all.
English Language Art (ELA)
Our approach to teaching reading is based on the science of reading, which is a systematic approach which begins with students learning to build phonemic awareness followed by instruction in phonics, fluency, vocabulary and sight words, and comprehension. We find that students have different strengths in these areas and that a student's reading program must be built to enhance their strengths while providing more opportunities and guidance in the areas that they struggle with. Reading comprehension is an area that many students struggle with as they must rely on prior knowledge and their language skills to comprehend what they read. If a student is reading fluently, but still struggles with comprehension, we build a program that is strongly focused on building the student's language skills to increase their prior knowledge.

Language instruction is also a crucial component in teaching students to write. The first step of teaching writing is teaching students to generate ideas and to make comments about their environment. We look at writing as an extension of expressive language and ensure that we strengthen our students' ability to answer different types of questions, make comments, and make requests. Students begin with learning how to transfer their thoughts into words and putting those words or phrases on paper. As students grow as writers, they learn to understand the writing process and how to incorporate their own experiences, knowledge, and ideas into their compositions and essays. At this level, students are learning to understand and apply the components of the writing process, such as planning, organizing, writing (or typing), editing, and revising their work products. This process helps learners to draft and develop writing that is clear, coherent, and thoughtful.
Our mathematics instruction incorporates standard-based curriculum as well as evidenced-based practices, which have been shown to be effective for teaching math procedures and concepts. Math instruction is individualized to target each student's areas of strengths and needs as well as to support the student to progress at their own most appropriate pace. As part of this curriculum, teachers incorporate the use of curricular materials, such as additional tools, visuals, manipulatives, and activities, to support students' active engagement in the learning process. For math instruction, we utilize explicit, systematic instruction to teach each student specific math concepts.
Social studies is an integral part of our curriculum, and we are committed to helping students develop a deep understanding of the world around them. Our social studies curriculum promotes civic understanding —the knowledge and intellectual processes required of students to be active and engaged participants in daily public life.
Through our social studies program, students will:
Our science curriculum is designed to ignite students' curiosity and inspire them to explore the wonders of the natural world. Whether in our STEM lab or their classroom, our science program involves teaching and learning in science, technology, engineering, and mathematics, and it includes educational activities throughout grade level.

Through our science program, students will:
Health, Sports & Physical Education
We believe that a dynamic body enhances learning and self-regulation. Our program extensively integrates sports and fitness, as we view it as essential for children to have fun and be given opportunities to discover various athletic activities. Sports allow children to cultivate skills such as turn-taking, friendly competition, and teamwork, further emphasizing the importance of a dynamic body in fostering a positive learning experience.

Tribeca Preparatory established a partnership with Asphalt Green, through which we provide a swim program at their Battery Park City location. Swim coaches from Asphalt Green collaborate with our teachers and students to deliver tailored swimming lessons. This integrated approach ensures that the program is specifically designed to cater to the needs of neurodiverse children. We take pride in paving the way for bridging the gap between organizations primarily serving neurotypical children and our more neurodiverse community. Our goal is to expand the variety of sports-related programming under this collaborative model.

At our facility, students are exposed to a variety of sports, including basketball, soccer, badminton, tennis, hockey, and golf. These activities occur in our sports area under the guidance of a coach. We are in the process of installing a multi-sports simulator, which will enable students to learn different sports in a controlled environment, fostering the development of their skills and understanding. With immediate feedback and analytics, students can fine-tune their techniques and enhance their abilities or learn new sports more effectively.
We have a certified music therapist and educator at Tribeca Preparatory who provides experiences for our students to explore music in a variety of ways. Students learn the foundations of music while actively participating in song and movement activities. Students who have a more extensive background and interest in music work on expanding their love of music while acquiring or improving on their current skills. 

The art program at Tribeca Preparatory provides students with creative problem-solving skills through material exploration, visual thinking strategies, and art historical learning. Our students discover the importance of individuality, collaboration, craft, structure, and experimentation. They are given opportunities to use their ideas to create artwork while obtaining the basics of art and design principles. The emphasis on classroom engagement and group learning allows our students to connect and be inspired by their peers and the work that they all create.
Providing lunch and transportation are not part of our academic program. All of our students bring a nut-free lunch. Many of our students utilize transportation supplied by the New York City Department of  Education's Office of Pupil Transportation (OPT). We work with all families to ensure a smooth transition for all students.
We strongly believe that a team approach is necessary in order to support students in their growth and development. Each student's growth and development varies and requires different supports to ensure that they are able to access learning. We strive to have an integrated model so that our students are able to learn skills in the environment where the skills would typically occur.
At times, our students require a quiet and separate environment for learning new skills. Our providers are able to assess each child and determine the location and means of instruction that support each child's progress. Students who currently receive related services in the following areas. Please note, these services are provided as needed and are not required by all students.
Speech and Language Therapy
Speech and language services are provided both in the context of small group or individual sessions, as well as integrated throughout the school day across a variety of academic and social settings. In addition to providing direct therapeutic services, the speech-language pathologist (SLP) continuously collaborates with our teachers to ensure access to classroom content and promote a language-rich environment throughout the school day. Our SLP addresses speech and language skills that are critical to academic and social success, including written expression, vocabulary building, articulation, Augmentative and Alternative Communication (AAC), social communication, and play. Services are provided by a NYS licensed speech-language pathologist (CCC-SLP) who has been certified by the American Speech-Language-Hearing Association (ASHA) and is PROMPT trained.
Our occupational therapist (OT) addresses areas that may interfere with a student's educational performance; these include sensory processing and self-regulation, fine motor and visual perceptual skills, gross motor skills, and self-care skills. OT sessions are conducted in a variety of settings, including a fully equipped sensory gym, fine motor room, and within the classroom in order to support each student according to their individual needs. OT services are provided to students both in the context of small group and individual sessions.  In addition, our OT routinely consults within the classroom during group learning (e.g., social studies/science/art/lunch) in order to support each student during daily activities. Students are provided with individualized sensory diets, adaptive equipment, and individual strategies to improve classroom performance. This highly collaborative approach is necessary to enhance each child's performance of school-related activities.
Physical therapy services focus on assisting students in acquiring the functional abilities necessary to access and adapt to their educational environment. The physical therapist (PT) primarily addresses motor skill performance, targeting skills related to balance, strength, coordination, and/or mobility. Intervention prioritizes functional mobility and safe, efficient access and participation in daily activities in the educational setting.
Counseling services are provided by a licensed Ph.D psychologist in individual and small group sessions across a variety of social settings and environments. Sessions aim to support students' social and emotional development through the learning and use of positive coping strategies, social problem solving skills, and reciprocal communication to establish and maintain appropriate peer relationships.